Performance Measures RPA I.2.1 Summer Temperature Target
---
---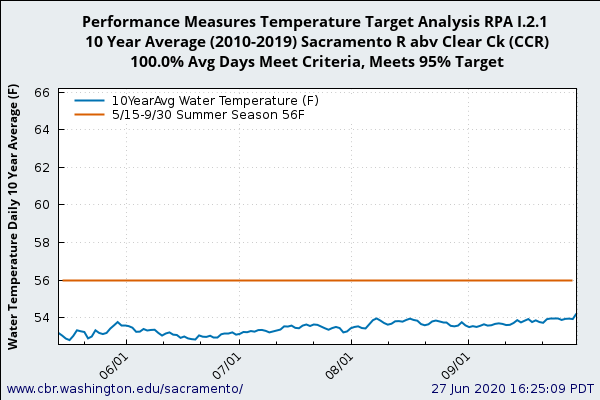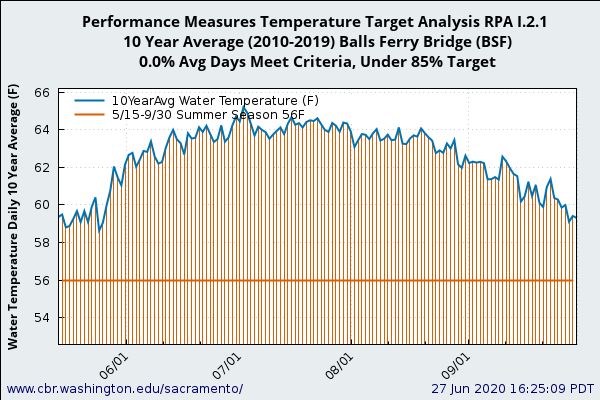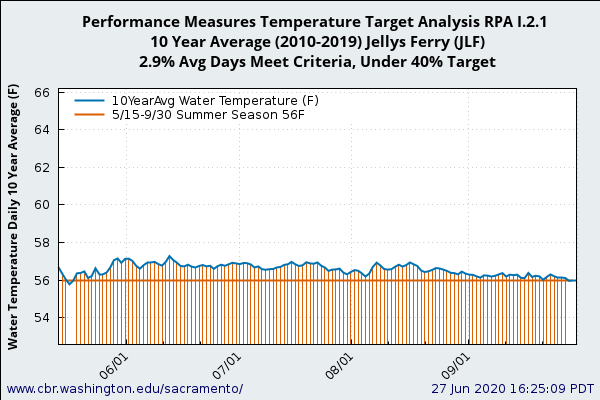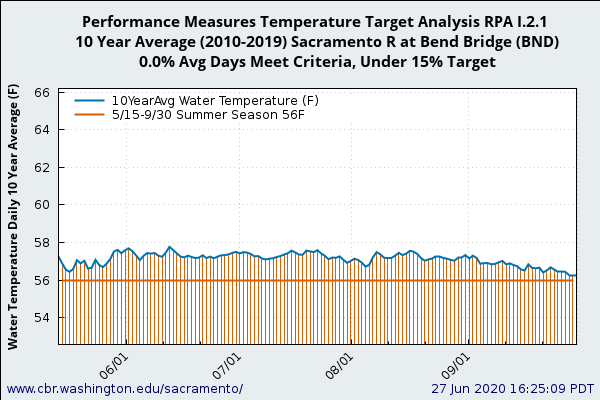 10 Year Average (2009-2018) RPA Temperature Target Analysis and Exceedance
Site
Dates
RPA
Criterion
Possible
Days
Analysis
Target
Total Period Analyzed
Criteria Exceedance
Average
Temperature
Avg Days in
Target
Pct Days
Target
Days
Pct of
Total Days
First Day
Last Day
Abv Clear Ck (CCR)
5/15-9/30
Below 56F
139
95%
53.6F
139
100.0%
0
0.0%
Balls Ferry Bridge (BSF)
5/15-9/30
Below 56F
139
85%
56.6F
14
10.1%
125
89.9%
05/18
09/30
Jellys Ferry (JLF)
5/15-9/30
Below 56F
139
40%
56.6F
0
0.0%
139
100.0%
05/15
09/30
Bend Bridge (BND)
5/15-9/30
Below 56F
139
15%
57.2F
0
0.0%
139
100.0%
05/15
09/30
RPA I.2.1 Temperature Target Analysis Data Table for Sacramento River, 5/15-9/30
Month
Day
10 Year Average (2009-2018) Water Temperature
Daily Average above 56F shaded in red.
Abv Clear Ck
(CCR)
Balls Ferry Bridge
(BSF)
Jellys Ferry
(JLF)
Bend Bridge
(BND)
Month
Day
Abv Clear Ck
Balls Ferry Bridge
Jellys Ferry
Bend Bridge
05
15
53.02
55.92
56.45
56.90
05
16
52.89
55.46
56.27
56.76
05
17
52.76
55.93
56.03
56.50
05
18
52.99
56.19
56.28
56.67
05
19
53.16
56.42
56.60
57.06
05
20
53.12
55.95
56.40
56.84
05
21
53.05
56.24
56.49
56.93
05
22
52.68
56.11
56.11
56.57
05
23
52.80
56.05
56.14
56.54
05
24
53.13
56.22
56.49
56.92
05
25
53.01
54.85
56.14
56.63
05
26
53.12
55.63
56.28
56.66
05
27
53.20
56.43
56.46
56.92
05
28
53.38
56.88
56.69
57.12
05
29
53.50
56.72
56.96
57.42
05
30
53.74
56.74
57.16
57.64
05
31
53.58
56.03
57.03
57.55
06
01
53.52
56.65
57.05
57.50
06
02
53.45
56.52
57.01
57.52
06
03
53.39
56.83
56.91
57.40
06
04
53.19
56.62
56.69
57.20
06
05
53.08
56.20
56.34
56.77
06
06
53.25
56.34
56.56
56.98
06
07
53.30
56.65
56.93
57.42
06
08
53.35
56.80
57.00
57.48
06
09
53.34
56.45
57.00
57.45
06
10
53.17
55.96
56.81
57.25
06
11
52.97
55.97
56.63
57.12
06
12
53.12
56.41
56.81
57.27
06
13
53.19
56.86
57.15
57.64
06
14
53.07
56.74
56.89
57.41
06
15
53.08
56.70
56.73
57.20
06
16
52.93
56.35
56.56
57.05
06
17
53.05
55.97
56.58
57.03
06
18
52.96
56.63
56.72
57.19
06
19
52.96
56.60
56.62
57.10
06
20
52.94
56.85
56.60
57.09
06
21
53.16
56.49
56.72
57.15
06
22
53.08
56.53
56.73
57.24
06
23
53.08
57.38
56.70
57.12
06
24
53.12
57.43
56.69
57.19
06
25
53.09
57.01
56.59
57.14
06
26
53.15
56.73
56.79
57.29
06
27
53.28
57.11
56.91
57.42
06
28
53.27
56.92
56.81
57.39
06
29
53.31
57.06
56.88
57.41
06
30
53.39
57.45
57.00
57.54
07
01
53.27
57.37
56.96
57.58
07
02
53.31
57.00
56.90
57.48
07
03
53.42
57.38
56.98
57.56
07
04
53.45
57.05
56.96
57.52
07
05
53.44
56.89
56.89
57.46
07
06
53.42
56.84
56.69
57.28
07
07
53.45
56.60
56.74
57.29
07
08
53.41
56.44
56.51
57.08
07
09
53.43
56.57
56.51
57.04
07
10
53.40
56.48
56.60
57.13
07
11
53.42
56.55
56.59
57.13
07
12
53.53
56.80
56.70
57.21
07
13
53.56
57.23
56.70
57.23
07
14
53.70
57.02
56.83
57.34
07
15
53.71
57.50
56.88
57.44
07
16
53.75
57.45
57.04
57.62
07
17
53.58
57.17
56.83
57.43
07
18
53.55
57.06
56.71
57.29
07
19
53.73
57.18
56.79
57.32
07
20
53.79
57.47
57.03
57.63
07
21
53.66
57.11
56.90
57.53
07
22
53.71
57.44
56.83
57.43
07
23
53.64
57.54
56.87
57.49
07
24
53.60
57.45
56.70
57.31
07
25
53.57
57.46
56.68
57.27
07
26
53.51
56.95
56.53
57.13
07
27
53.61
57.22
56.62
57.23
07
28
53.68
57.33
56.65
57.24
07
29
53.63
57.00
56.72
57.32
07
30
53.37
56.95
56.49
57.12
07
31
53.44
56.78
56.41
57.00
08
01
53.60
56.91
56.49
57.06
08
02
53.70
56.96
56.64
57.23
08
03
53.71
56.84
56.57
57.11
08
04
53.62
56.75
56.40
56.93
08
05
53.60
56.72
56.25
56.75
08
06
53.76
56.36
56.35
56.80
08
07
54.00
56.83
56.70
57.15
08
08
54.11
56.87
56.99
57.48
08
09
54.05
56.90
56.91
57.43
08
10
53.94
57.01
56.78
57.34
08
11
53.90
57.16
56.78
57.33
08
12
53.86
57.00
56.74
57.30
08
13
53.89
56.90
56.78
57.34
08
14
53.88
56.86
56.77
57.34
08
15
53.88
56.91
56.73
57.29
08
16
53.95
56.88
56.80
57.35
08
17
54.05
56.93
56.98
57.55
08
18
54.00
56.90
56.92
57.53
08
19
53.97
56.90
56.88
57.47
08
20
53.77
56.74
56.64
57.26
08
21
53.80
56.80
56.60
57.15
08
22
53.81
56.83
56.62
57.21
08
23
53.98
56.91
56.69
57.24
08
24
53.99
56.67
56.71
57.28
08
25
53.96
56.83
56.69
57.26
08
26
53.89
56.76
56.63
57.19
08
27
53.92
56.78
56.57
57.15
08
28
53.74
56.75
56.45
57.06
08
29
53.76
56.97
56.51
57.09
08
30
53.76
56.64
56.47
57.09
08
31
53.93
56.66
56.60
57.18
09
01
53.77
56.35
56.50
57.14
09
02
53.71
56.40
56.45
57.09
09
03
53.78
56.73
56.49
57.13
09
04
53.67
56.53
56.36
57.00
09
05
53.77
56.57
56.25
56.82
09
06
53.85
56.70
56.43
57.03
09
07
53.76
56.42
56.38
57.00
09
08
53.76
56.26
56.29
56.89
09
09
53.87
56.22
56.40
56.98
09
10
53.91
56.42
56.49
57.09
09
11
53.90
56.56
56.56
57.16
09
12
53.83
56.16
56.41
57.02
09
13
53.82
56.14
56.48
57.03
09
14
53.96
55.96
56.47
56.96
09
15
54.11
56.06
56.52
56.92
09
16
54.03
55.74
56.38
56.78
09
17
54.16
55.88
56.49
56.86
09
18
54.29
56.26
56.77
57.18
09
19
54.14
56.31
56.62
57.07
09
20
54.25
56.66
56.65
57.02
09
21
54.13
56.45
56.57
56.99
09
22
54.10
56.37
56.38
56.72
09
23
54.18
56.49
56.45
56.77
09
24
54.23
56.21
56.54
56.87
09
25
54.15
56.07
56.33
56.63
09
26
54.25
55.92
56.37
56.62
09
27
54.19
55.84
56.45
56.72
09
28
54.23
56.52
56.43
56.72
09
29
54.37
56.03
56.35
56.62
09
30
54.33
56.30
56.35
56.60
---
Data Methods, Notes, Citations
Data Methods
Data Courtesy of CDEC
Hourly data for each site is retrieved from CDEC on a daily basis.
Columbia Basin Research (CBR) QA/QC process on hourly data for outliers, false data (e.g., 32F measured by satellite), and data outside expected range of observation (e.g., 90F). Data loaded into CBR database.
CBR calculate Daily Average values based on CBR cleaned hourly values.
Query for daily average water temperature for selected year.
Target Criteria
Target analysis and exceedance is based on criteria as defined in NMFS 2009, p592.
NMFS 2009. Biological and conference opinion on the long-term operations of the Central Valley Project and State Water Project. Long Beach, California. June 4. 844 pg. Plus appendices.
---
Citation

Columbia Basin Research, University of Washington. (2018). SacPAS Performance Measures (RPA I.2.1). Available from http://tigger.cbr.washington.edu:3737/sacramento/data/pm_temp_RPAI.2.1.html
---
SacPAS: Central Valley Prediction & Assessment of Salmon, University of Washington, Columbia Basin Research, www.cbr.washington.edu/sacramento/