Clear Creek Temperature Target Analysis
---
This page provides analysis, based on Reclamation 2019 Proposed Action, of current and historical temperature conditions for fish using only observed data. Actual pre-season and in-season management decision processes are complex employing multiple sources of observed data, models, and forecasts. For further information, see the Thresholds section.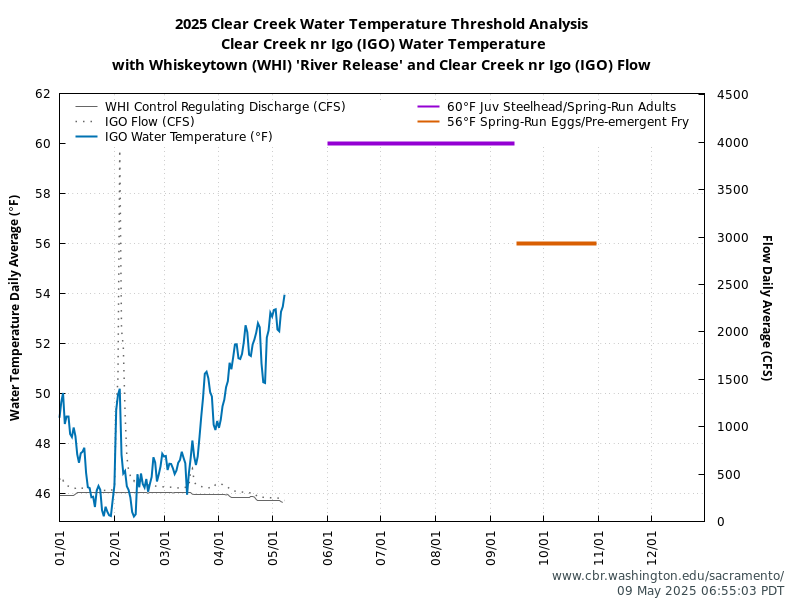 2021 Temperature Target Analysis and Exceedance
Steelhead
Life Stage
Life Stage
Dates
Criterion
Possible
Days
Data
Days
Missing
Data
Days
Total Period Analyzed
Criteria Exceedance
Average
Temperature
Days in
Target
Days
First Day
Last Day
Juv Steelhead/Spring-Run Adults
6/1-9/15
Below/Equal 60F
0
0
0
Spring-Run Eggs/Pre-emergent Fry
9/16-10/31
Below/Equal 56F
0
0
0
Jump to Detail Data
View Analysis for Another Year
Clear Creek Temperature Target Analysis History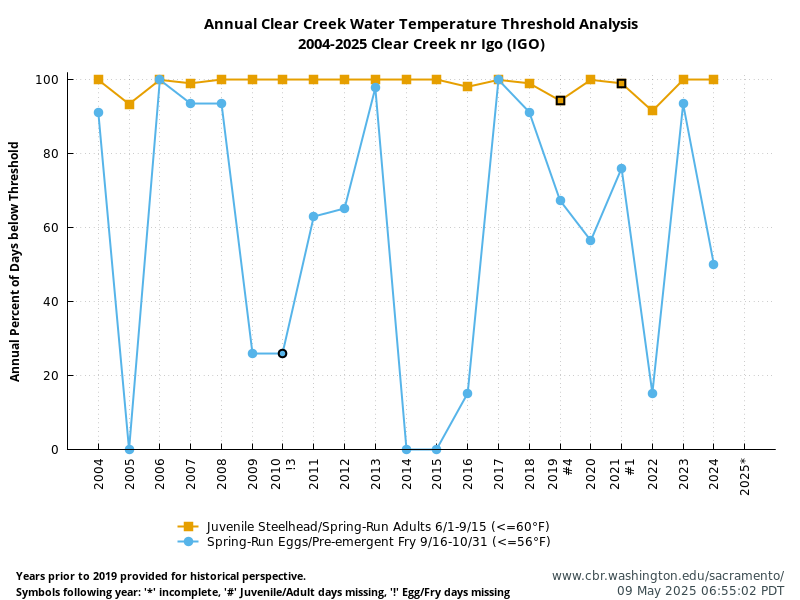 2021 Clear Creek Temperature Target Analysis Data Table for Clear Creek nr Igo (IGO)
Date
Value
Juvenile/Adults
60F
6/1-9/15
Eggs/Fry
56F
9/16-10/31
Date
Value
Juvenile/Adults
60F
6/1-9/15
Eggs/Fry
56F
9/16-10/31
2021-01-22
46.95
2021-01-21
46.76
2021-01-20
46.58
2021-01-19
46.74
2021-01-18
47.40
2021-01-17
47.77
2021-01-16
47.59
2021-01-15
47.30
2021-01-14
47.22
2021-01-13
47.65
2021-01-12
47.16
2021-01-11
46.98
2021-01-10
46.98
2021-01-09
46.57
2021-01-08
47.13
2021-01-07
46.73
2021-01-06
46.56
2021-01-05
46.58
2021-01-04
47.47
2021-01-03
47.72
2021-01-02
47.70
2021-01-01
47.39
---
Data Methods, Notes, Citations
Data Methods
Data Courtesy of CDEC and US Geological Survey
Hourly data for Clear Creek nr Igo (IGO) is retrieved from CDEC on a daily basis.
Columbia Basin Research (CBR) QA/QC process on IGO hourly data for outliers, false data (e.g., 32F measured by satellite), and data outside expected range of observation (e.g., 90F). Data loaded into CBR database.
CBR calculates Daily Average values based on CBR cleaned hourly values.
Query for daily average water temperature for selected year.
Examine daily average data for 60F and 56F exceedance during date periods as outlined in Reclamation Proposed Action.
Thresholds
Please refer to the Clear Creek Technical Team (CCTT) annual reports for details on within water year activities.
Target analysis and exceedance found on this page is based on criteria as described in Reclamation 2019, p4-2.
Reclamation 2019. Reinitiation of Consultation on the Coordinated Long-Term Operation of the Central Valley Project and State Water Project Central Valley Project, California Mid-Pacific Region, Final Biological Assessment, Chapter 4: Proposed Action. October 21. Available online: https://www.usbr.gov/mp/bdo/lto/biop.html
Daily water temperature in below normal and wetter years of: (1) 60°F at the Igo gage from June 1 through September 15; and (2) 56°F or less at the Igo gage from September 15 to October 31; operate as close as possible to these targets in dry and critical years.
---
Citation

Columbia Basin Research, University of Washington. (2021). SacPAS Clear Creek Temperature Target Analysis. Available from http://www.cbr.washington.edu/sacramento/data/tc_clear.html
---
SacPAS: Central Valley Prediction & Assessment of Salmon, University of Washington, Columbia Basin Research, www.cbr.washington.edu/sacramento/