Data Queries & Alerts
---

Alert: Weir Overtopping Today & Last 10 Days River Stage (Feet) Above / Below Weir Crest Level at 4 Sacramento River Weirs: Moulton, Colusa, Tisdale and Fremont.

Temperature Target Analysis (CDEC)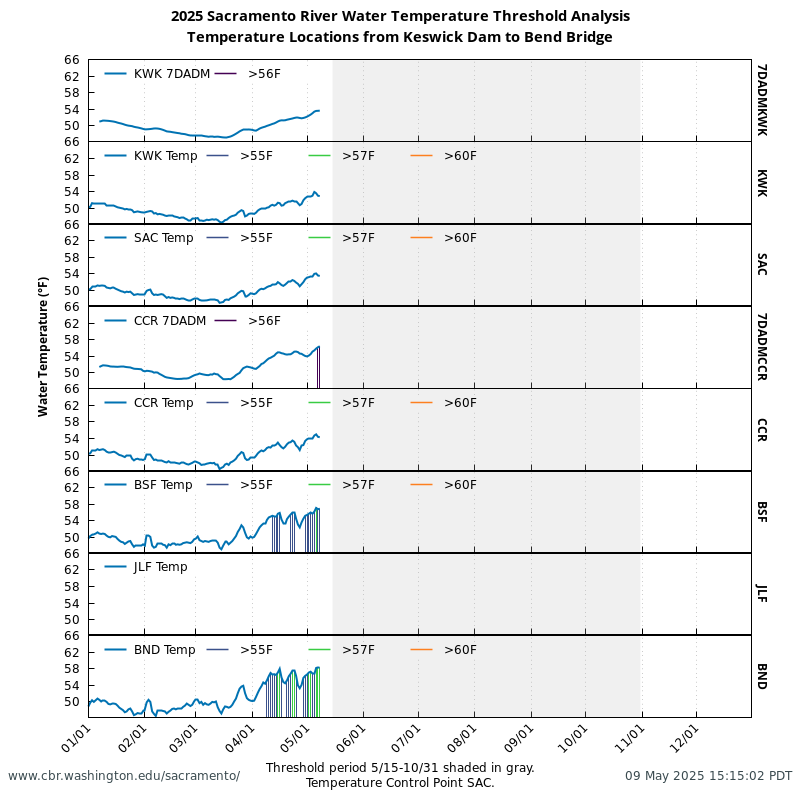 Juvenile Monitoring & Sampling (USFWS, Lodi, USFWS, Red Bluff, California Department of Fish & Wildlife via StreamNet, and CDEC)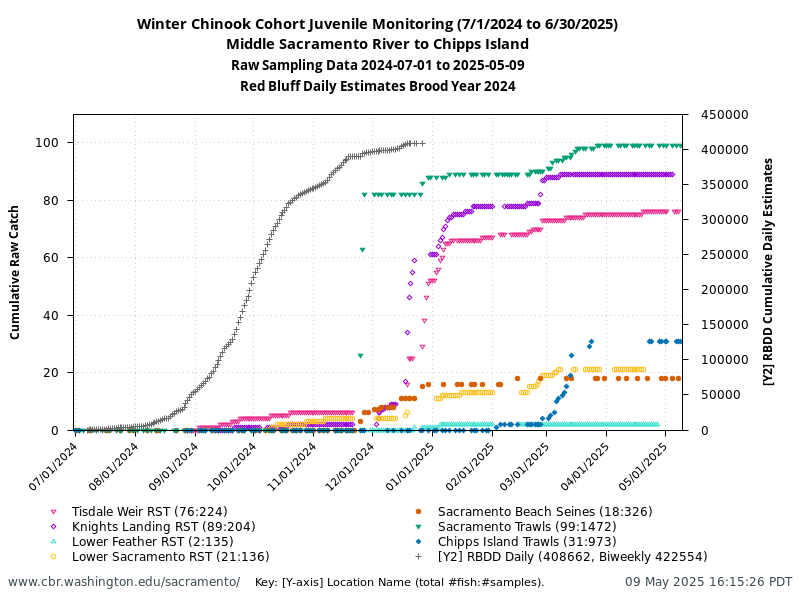 Juvenile Loss & Salvage (Fish Salvage Monitoring, CDFW Bay Delta Region)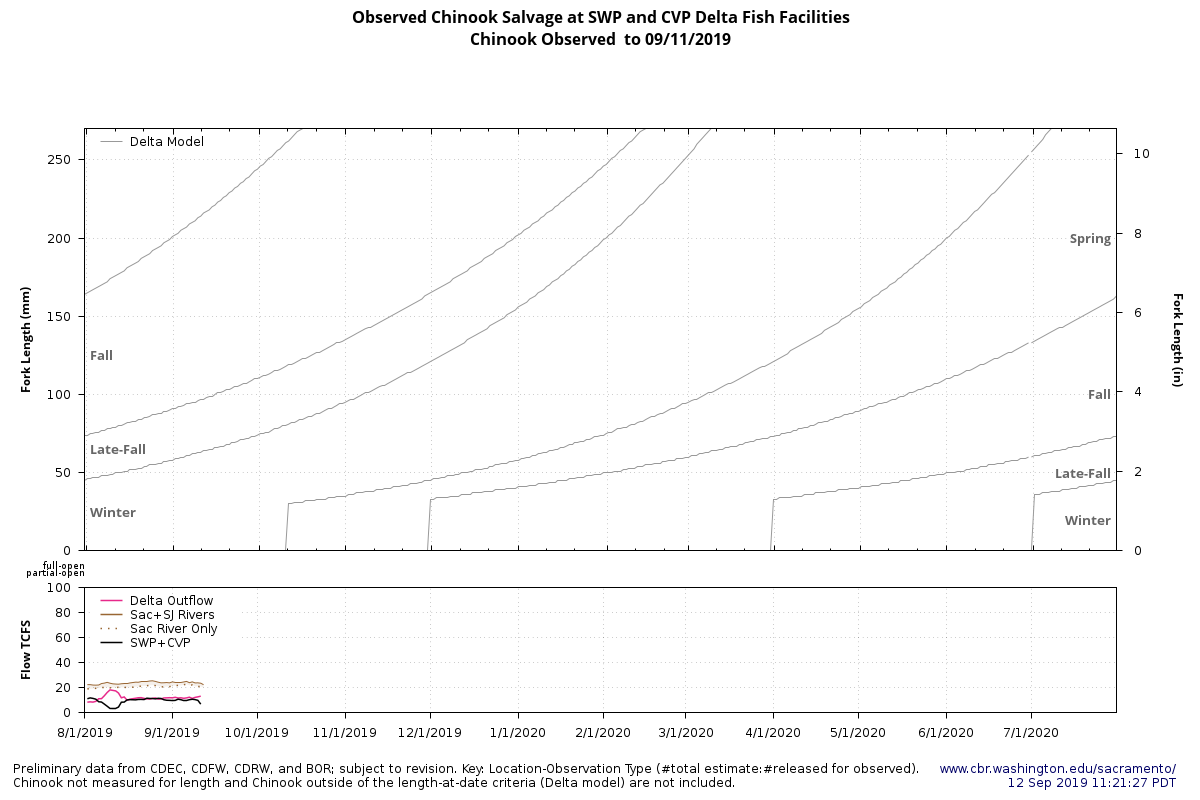 Adult Escapement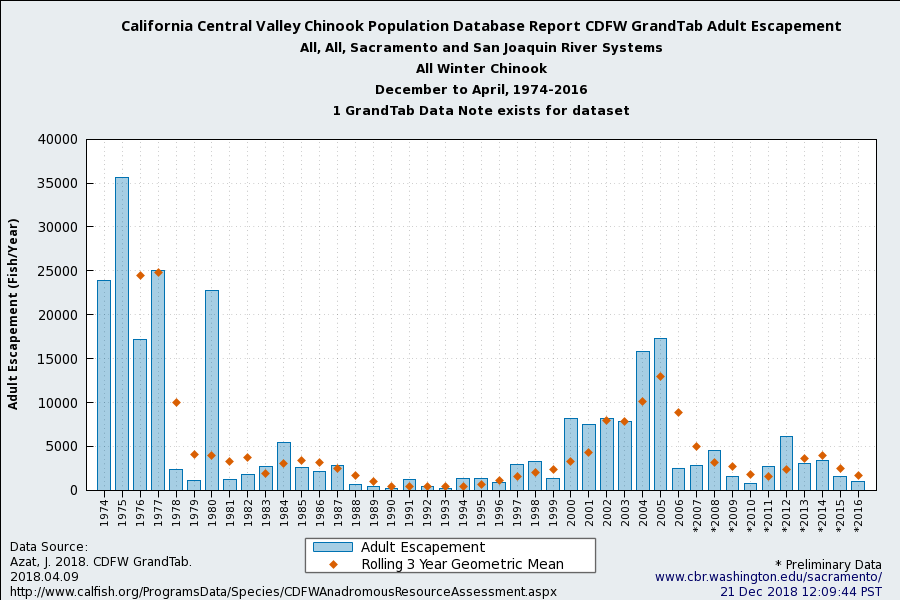 River Conditions (CDEC)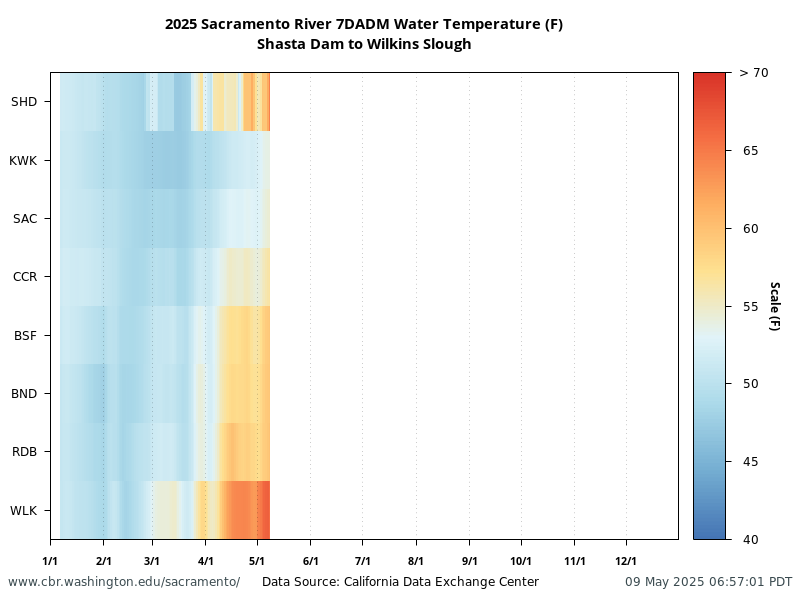 Exposure Index Data analysis tool calculates observed river conditions to user-provided thresholds and observed Fish Exposure to River Conditions at locations on the Sacramento River. Currently offering observed river conditions to user-provided thresholds.

Data Sites & Inventory Current database inventory for selected Sacramento River Basin sites with links to data reports and visualizations.
---
Data Queries & Alerts Provide a publicly accessible, web-based query and reporting system of historical and current fish, environmental, and hydrologic information, vital to year-round planning and adaptive management of the Central Valley Project and State Water Project. Data uploads will provide the most up-to-date data as it is made available, whether it be daily, biweekly, monthly or annually. Basic conditions, performance measures, and threshold-based alerts are available through data aggregation and analysis of environmental conditions.
Quality Control of California Data Exchange Center (CDEC) Hydrosystem Data for use in SacPAS.
Recent Updates
29 March 2019: SacPAS is calculating OMR Tidally Filtered Flow and OMR Index for 28 October 2016 to present. Delta Loss results have been expanded to include OMR values. See OMR Tidally Filtered Flow and Index Calculations as performed by SacPAS for details.
24 August 2018: Loss and Salvage Detail Table (Juvenile Loss & Salvage) of Clipped and Unclipped Chinook and Steelhead at SWP and CVP Delta Fish Facilities including WY2018 genetic information where provided.
5 June 2018: Salvage Timing (Juvenile Loss & Salvage) for all years of unclipped and clipped juvenile Chinook salvage at the SWP and CVP Delta Fish Facilities. Other Delta Loss and Salvage data products relocated to new Juvenile Loss & Salvage category
29 May 2018: CWT SAR (Adult Escapement) Smolt-to-Adult Ratio (SAR) Estimates for Coded Wire Tag implemented for 10 Sacramento and San Joaquin hatchery programs.
8 May 2018: CDFW GrandTab (Adult Escapement) GrandTab 2018.04.09 implemented in SacPAS database.
20 April 2018: Delta Loss & Salvage. Due to an update strategy based on unique row identifiers, the SacPAS database occasionally accumulated duplicate rows of salvage data at the SWP and CVP. This resulted in salvage and loss numbers inflated by approximately 20% during the season (February-April, 2018). We have improved our data assimilation process and now report salvage and loss in line with the numbers from CDFW-Bay Delta Region. We would like to thank Geir Aasen at CDFW for his assistance in identifying and resolving this issue with SacPAS salvage and loss calculations.
---
SacPAS: Central Valley Prediction & Assessment of Salmon, University of Washington, Columbia Basin Research, www.cbr.washington.edu/sacramento/
Tuesday, 23-Jul-2019 18:40:40 PDT