Columbia Basin Research hosts this web page for archival purposes only. This project/page/resource is no longer active.
CRiSP Harvest Chinook Salmon Harvesting Model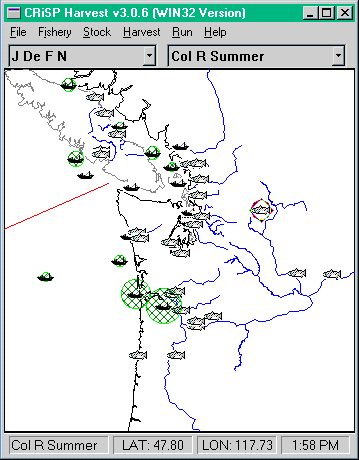 CRiSP Harvest Model is a user-friendly computer model that simulates the harvest of 30 chinook salmon stocks by 25 fisheries over an extended time horizon. The geographic range covered by the model extends from Southeast Alaska to the Oregon coast. Ten stocks and two fisheries from the Columbia River basin are included in the model. This is freely distributed software.
Documentation
The online documentation in this program has not yet been fully implemented. Many of the dialog screens have no context sensitive help.
We have included the CRiSP Harvest Manual in the Program Files/CBR/CRiSP Harvest directory.
Win32 Distribution
Download
CRiSP Harvest v3.0.6 (Windows 95/NT 32bit), released 29 October 1997, 2.2M self-extracting archive
System Requirements
IBM compatible computer, 486/66 Mhz, 8 MB of RAM, 10 MB available hard disk space. Note: These are minimum system requirements. The model runs best with 16 MB of RAM.
Installation
Save to the directory of your choice when downloading.
Double click on the self-extracting file crisph.exe icon or launch crisph.exe from a Run dialog box. This creates an install directory and subdirectory in the directory in which you saved crisph.exe.
Open the Install/disk1 directory and double-click on the setup.exe icon.
Follow the on-screen instructions.
When you have finished installing CRiSP Harvest, delete the Install directory and the self-extracting file crisph.exe.